Before you make any purchase, I recommend you to read the Nuwave air fryer reviews in details. Spectacular foods, memorable meals, delicious snacks, and delightful desserts… is this possible in one appliance! Yes, it is.
Your 'HERO' Nu Wave 36011 Air Fryer at your service!! With its perfect distribution of hot air, you can have a healthy meal for you and your family in just a minute!
Product specification in details
With hot and high speed air circulation, Nu Wave 36011 Air Fryer can cook your favorite fried foods without reducing their deliciousness. It is quite modern with its LED touch screen.
With Nu Wave 36011 Air Fryer, you can bake, roast, broil, toast and grill varieties of foods without using much oil. The digital control system helps you to operate this fryer easily.
It has maximum 1300 watts of power by which Nu Wave 36011 Air Fryer creates cyclonic sir that circulates around the food and air sear the outside. Therefore, the flavor and juice of the food can't get out and the taste is preserved.
With its 3 qt capacity, it can cook for more than 2 people. According to Nuwave air fryer reviews, it has a removable drawer and food basket, which have durable nonstick coating.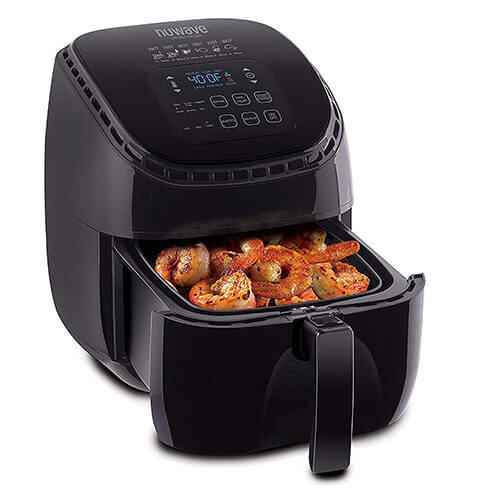 The maximum temperature is 400 degree Fahrenheit with 5 degree increments and minimum is 100 degree Fahrenheit. Nu Wave 36011 Air Fryer has one touch pre-heat function for searing, grilling and greater tasting leftovers.
Referring to Nuwave air fryer reviews, some feature that make it stand alone
Let's have a look at all the promises this machine makes
Innovative kitchen appliance for relaxing your cooking time
LED touch screen control panel for easy and comfortable use
Delicious food with less or almost no oil
Temperature control from 100 degree to 400 degree Fahrenheit
One touch pre-heat function is available
Auto "PRE-HEAT" feature ensures accurate cooking at the desired temperature
​

"REHEAT" setting defaults to 360F for 4 minutes
6 presets are included: French Fries, Frozen Fries, Nuggets, Steak, Poultry, Fish
Built-in safe start sensor, no PFOA
3 wattage control settings( 600/900/1300) for you to adjust the power
The whole food preparation process is fast and easy

​
Pros
Mention to the nuwave air fryer reviews, let's see how many of the claims are true.
Nu Wave 36011 Air has LED touch control panel, which eases the operation of the device. It has details like built-in cord wrap to cut down on clutter and sound that informs you when the basket is in place and ready to cook.
With its auto safety shut off system, you don't have to worry about the food being overcooked.
This fryer has safety features for keeping out unit from operation if the cooking basket is not in place.
Its digital timer is programmed up to 100 hours for temperatures between 100- 345 degrees Fahrenheit and 2 hours for temperatures between 35- 390 degrees Fahrenheit.
Extras like baking pan and muffin cups to make desserts in addition to snacks and meat is also provided with this fryer.
Cons
Nuwave air fryer reviews show a few downsides to using this device.
As Nu Wave 36011 Air Fryer cooks faster, it becomes difficult to judge if the food is cooked thoroughly while it is cooking.
This air fryer is not easy to clean. The wired basket that is provided with this device is the hardest one to clean.
This air fryer is quite loud while cooking.
It has only one year limited warranty, which is not quite compatible with the quality of the device.
Conclusion
Even though it has some negative points, Nu Wave 36011 Air Fryer can save your time by cooking various dish in a short period and can give you quite a good customer experience. But hey! All heroes have some faults, but they are still heroes.
Video by © Meshae Gracian