If you are in love with your air fryer and want to take it to the next level then you should check out the Power Air Fryer Oven reviews. As the name suggests it is an air fryer as well as an oven.
Whenever you have a house full of guests and have to cook multiple foods at once, the 1700-Watts 6 QT Power Air Fryer Oven will be at your service! It is full of multi-cooking features that will give you all the juicy, crispy, delicious goodness with the healthier benefits of oil-free air frying.
Description
The beauty of Power Air Fryer Oven is its rapid air technology that prepares food with a whirlwind of super-heated air. It gives the food a great crispy-fried taste without the added fats or calories.
You can either choose the 6 QT size or the family size 8 QT according to your needs. According to the air fryer oven review, the 1700-Watts 6 QT Power Air Fryer Oven is a 7-in-1 multi-functional cooking device, that fries your food with little to no oil.
It not only fries food but also cooks tender, tasty rotisserie chicken and kebabs and much more. And who needs more when you can even dehydrate your favorite fruits, meats, and vegetables in it?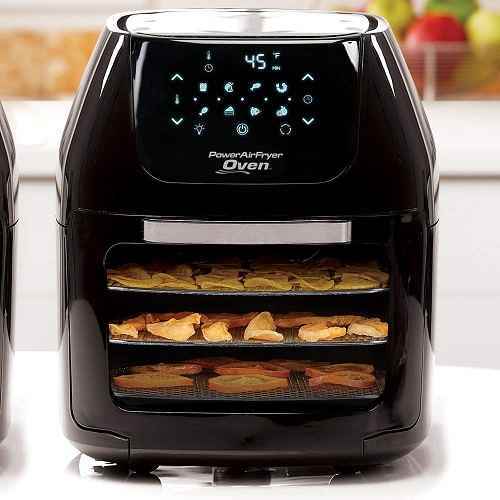 Moreover, the Power Air Fryer Oven reviews indicate that it has three levels of cooking surfaces to prepare an entire family meal. You can even keep an eye on the whole cooking process through its crystal clear large window.
The highest cooking temperature is 400 degrees Fahrenheit and the lowest is 150 degrees as per the Power Air Fryer Oven reviews. It also has a digital timer with an automatic shut-off feature so that your food doesn't burn.
Video Copyright © Gary Simmons
According to power air fryer oven reviews, what makes this product stand out
Now, let's take a look at what this machine claims to give you.
The food is cooked with less fat and up to 80% fewer calories.
The device has a large LED digital display for ease of reading and a user-friendly one-touch button panel.
It features a highly efficient 360 degrees Fahrenheit hot air technology to cook food evenly and quickly.
It is a 7-in-1 multi-cooking device that replaces a toaster, convection oven, rotisserie oven, dehydrator oven, deep fryer, pizza grill, and microwave.
8 One-touch digital pre-sets are included for French fries, steaks, chops, fish, shrimp, chicken, baking and rotisserie.
It comes with 3 air flow racks, 10 stainless skewers, a rotating rotisserie spit, a rotating mesh basket, and, an oil deep tray.
An adjustable timer and temperature control up to 400 degrees Fahrenheit are available.
It allows for frying, roasting, sautéing, grilling, baking as well as dehydrating or rotisserie cooking.
The machine comes with 3 very detailed recipe books for frying, rotisserie and dehydrating food.
Pros
As per the Power Air Fryer Oven reviews, let's check out how many of the claims are true.
The food cooks with a perfect crisp and tastes in golden texture.
Its innovative LED digital display and easy-touch panel makes the cooking procedure very easy.
Airflow racks allow the hot air to circulate 360° while the drip tray catches the extra fat and oil for guilt-free frying.
With 7 multi-cooking functions, this device has the maximum versatility to make a wide variety of dishes.
One can grill up to 10 skewers simultaneously, which can feed an entire family or groups of people.
It is very easy to clean as the removable skewers and racks are dishwasher friendly. The front door of the machine and the drip tray are removable for easy access and cleaning of the non-stick-coated interior.
It has a cool touch, and an easy grip handle for removing the food basket safely.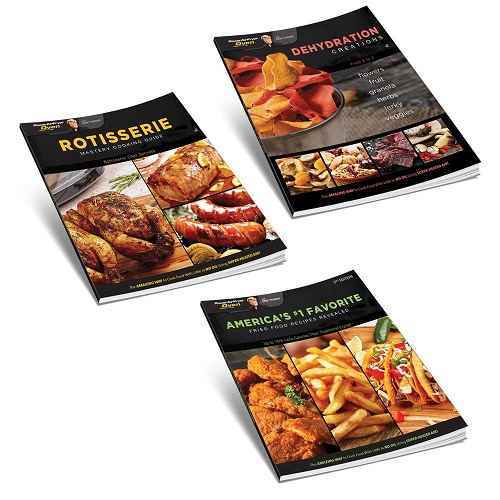 Cons
Although there are many good sides to using this device, the Power Air Fryer Oven reviews show downsides as well.
The fan stops working after a time, which results in a burning smell around and an entirely useless machine.
The basket doesn't rotate after a certain time of use or rotates far too slowly.
The food tray is of poor quality as food starts to stick on the tray making the cleaning process difficult.
The air fryer oven review on the website and commercial promotes a five-pound weight limit for chickens. But the user manual suggests not exceeding the limit of 3.5-four pounds.
Conclusion
The Power Air Fryer Oven reviews present that this device has some negative points. But if you need a multi-function cooking device to replace a number of other bulkier and power-consuming appliances, then this is what you should aim for.