Air Fryer Chicken Wings Recipe – Sticky & Crispy Chicken Wings
Now day air fryers are making life easier with their convenient way of offering different cooking recipes within the quickest time. To make delicious and juicy chicken wings air fryers are the best choice of all.
It makes the chicken wings tasty and yummy without any grease of the deep fryer and makes them enjoyable for all. For the air fryer chicken wings recipe, following instructions can help a lot to make it easier.
| Preparation time | Cook time | Total time |
| --- | --- | --- |
| 10 minutes | 30 minutes | 40 minutes |
Ingredients for air fryer chicken wings recipe:
| Required Ingredients | Quantity of the Ingredients |
| --- | --- |
| Chicken wings | 1 pound |
| Vegetable oil | 3 tablespoons |
| Flour | ½ cup |
| Smoked paprika | ½ teaspoon |
| Garlic powder | ½ teaspoon |
| Salt | ½ teaspoon or according to your taste |
| Wings sauce | Any sauce as your preference |
Instructions for making the air fryer chicken wings recipe:
Firstly, cut the chicken wings and clean them well to make them ready to prepare with all the ingredients.
Secondly, take all the chicken wings pieces in a medium or large bowl and coat them with flour, salt, paprika and garlic powder. Then toss the wings with all the mixture properly.
Thirdly, toss the wings with olive oil too before transferring them into the air fryer basket. It is the choice of the user whether they want to use the oil or not to make the chicken wings.
Fourthly, preheat the air fryer to 180°C or based on your air fryer guideline preheat the fryer for air fryer chicken wings recipe. Now, transfer the chicken wings to the air fryer basket and shake them well again to mix all the ingredients.
Fifthly, place the basket of the air fryer at 180°C for 30 minutes. It's important to check and shake the chicken wings every 5 minutes to make it cook well and crispy.
​Keep the chicken wings for some more time if you want them to make crispier.
Finally, get the hot crispy fried chicken wings out from the air fryer basket and serve them with your favorite sauce and enjoy their juicy and yummy taste from inside with the beautiful texture from the outside.
Tips about making Chicken wings:
If anyone wants they can make baked chicken wings just on a wire rack over a cookie sheet. Before that, the wings need to be toss with oil properly. Then it can be prepared at 400 degrees for about 45-60 minutes to make it well cooked and crispy.
The chicken wings can also be made without oil and flour. It will still have the same crispiness in them. Just toss them and flip them halfway through cooking to make them evenly crispy. You need to check in every 5-6 minutes to ensure they are cooking well.
Conclusion
It is the most common and easy way to make the chicken wings. By following this air fryer chicken wings recipe it is possible to make the chicken wings healthy and enjoyable too.
The recipe does not take much time to prepare and cook so it is a must try the recipe to make at home.
Summary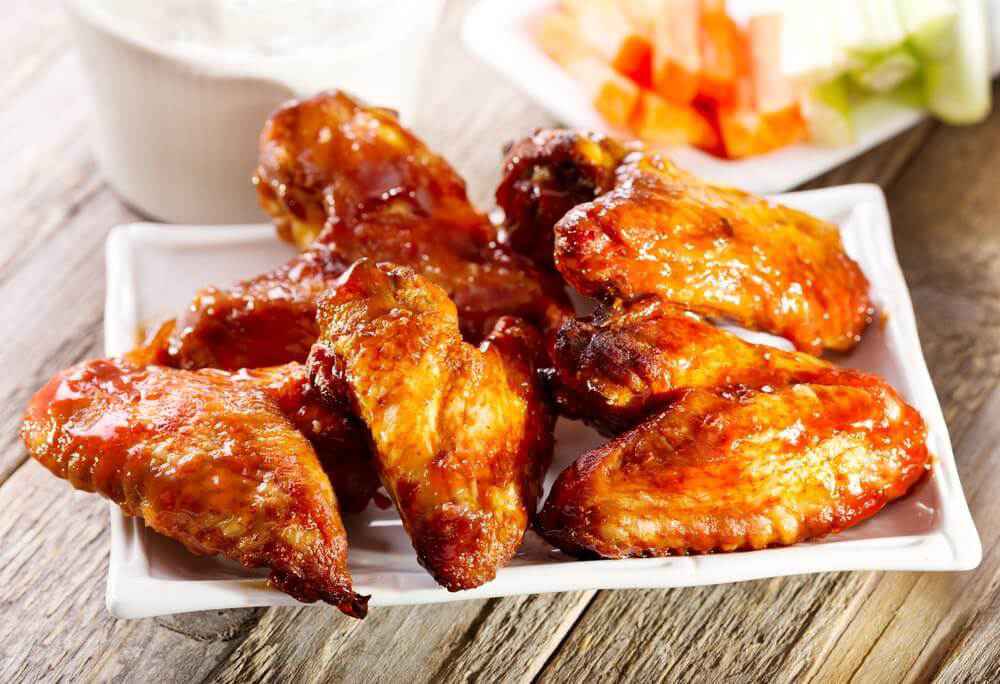 Recipe Name
Air Fryer Chicken Wings Recipe - Fry Chicken with Air Fryer
Author Name
Published On
Preparation Time
Cook Time
Total Time
Average Rating





Based on 1 Review(s)