Like all machines, an air fryer is also prone to malfunctioning at some point. After all, machines stop working optimally after a while and present many problems. It doesn't mean it's time to get a new one once this happens.
You should be able to solve the common issues of an air fryer easily. Though there will be few if you have an air fryer. Still, chances are always there and you need to troubleshoot it confidently.
Commo​​​​n issues of an air fryer and how to troubleshoot them:
Problem #1
Cooking Problem
It is a common problem that the food cooked in an air fryer turns out to be too soggy, dry or chewy. Everyone likes crunchy as far as fried chicken or French fries are concerned. The solution is to apply a coating of oil on the oil to achieve the best results. Despite the name air frying, a little bit of oil is still needed to achieve optimal results.
So if you are looking to get crispy food cooked to perfection either you have to apply some drops of oil on the food being cooked or else there should be fats elements there in your food to be used while air frying process. A pinch of oil would be great to give you a crispy touch otherwise it may not feel like a usual fried food.
Problem #2

Power Supply Issues

Sometimes it happens that an air fryer is switched on but isn't working. If there are problems with the electrical wiring of the unit, it would cause your air fryer to heat improperly. It's best to check if the air fryer is securely plugged in.

There is no harm in examining the circuit breaker as well. The timer turns on the appliance so make sure that it is set. Generally, one of these is causing the problem.
Problem #3

White Smoke

A few times, users will observe white smoke coming from the air fryer. This generally happens because of excess fat present in the food being cooked. This white mist is not specifically harming but it can be a disturbing sight. An easy solution is to avoid cooking foods with excess fat contents.

Read the label before cooking to confirm the fat level. Also, you can check the oil collection pan in order to clear our excessive oil or fats deposits on it. if you leave the excess oil there uncleaned, then there will be a lot of white smoke coming out of your air fryer.
Additional Common Issues:
Problem #4
Black Smoke
Another common issues of an air fryer is black smoke. Black smoke emerging out of your air fryer can prove to a more alarming issue compared to the white one. Unplug the unit immediately if you do observe such behavior.
It can be caused when the circuit may have got faulty or the heating element has been damaged. Don't attempt to repair the unit yourself as this would most likely void the warranty. Take it to repair center certified to fix your specific model.
Problem #5

Cleaning the Air fryer

One of the best ways to avoid problems with your air fryer is to keep it clean. Prevent the residue of food from sticking to the bottom basket by using a piece of aluminum foil or baking paper.

Don't fill up the entire area, or it will interfere with the even circulation of heat. Also, use lemon or its juice to remove smell of food coming from the air fryer. Let the juice sit in the fryer for a while, then rinse using water and detergent.
Conclusion
Here we have discussed some of the most common issues of an air fryer people may face while using an air fryer. But usually air fryers have little or no issues frequently and can serve you without any problems for a very long time & after all in modern kitchen an air fryer is an essential appliance.
Still have questions? Please use our Q&A page to ask question, we will reply you promptly.
Summary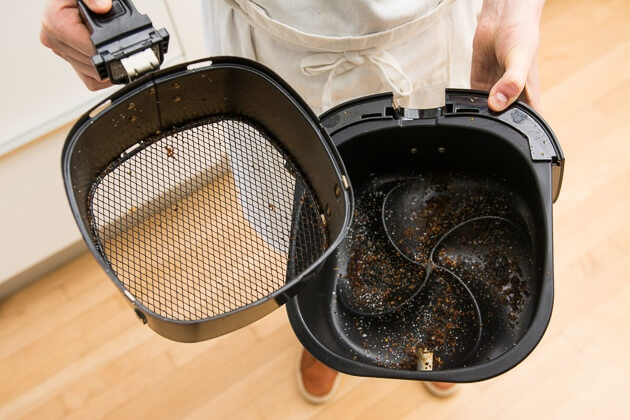 Article Name
How To Troubleshoot Common Issues of an Air fryer - Air Fryer User Guide
Description
Generally, you are able to solve all the common issues of an air fryer very easily. Like all machines, an air fryer is also prone to malfunctioning at some point.
Author
Publisher Name
Publisher Logo